Brand Architecture and Ecommerce
Pitney Bowes is a 100-year-old company that made its mark in the office mailing and shipping area. In the last 20 years, the company has grown to encompass technology and logistic solution for commerce. As such, the company wanted to conduct a refreshing of the brand architecture to reflect the company's new position in the commerce space. I was hired to help build a new architecture for the pb.com website and help improve the sale of online supplies.
Goal
The goal was to make new prospects aware of our commerce technologies and services without alienating the current client base who are mostly small businesses that own a postage meter and bought supplies for their meter from Pitney Bowes. The company needed a solution that served both.
The Client
Before understanding what the business what to project to the public, we wanted to know what the public thought of Pitney Bowes. Through market research we learned people's perception of the brand was out of date. So, it was going to take every department's help to drive the new message to market.
I helped organize a journey mapping session with leaders from different departments. This exercise helped enforce the idea that we had to attack this together. It also brought forth the challenges and rewards of moving forward. I assigned actionable next steps with each department and did bi-weekly check-ins.
Gather Resources
My first approach was to corral the research from each product owner and understand the many users. I ended up gathering over 60 different personas that each department had independently identified. After studying all the individual resources, I was able to winnow it down to 10 genuine personas by removing or combining data points. From these 12, we were about to understand the needs of our real clients.
Brand Architecture
My next task was to reimagined the information architecture based on these 10 personas. Not only what were they looking for but how were they looking. We interviewed our existing clients as well perspective clients, getting insight into they're true behavior. We quickly realized that the Pitney Bowes entire site structure was talking from inside out. The company was using internal jargon, product names people didn't know, and making broad assumptions of what they thought the client knew about the company. We also identified that current website did not function well across multiple digital devices.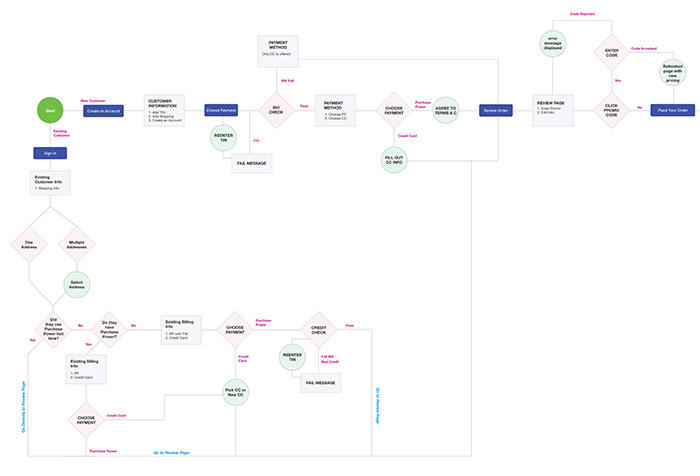 Old vs. New
Redoing the entire sitemap and navigation of a site is a daunting task in itself but having by-in from all department stakeholders can sometimes be even more challenging. To keep the project on target, I made sure to do the following. I brought in key stakeholders to planning meetings, limited the scope to avoid unnecessary complexity, fixed timely achievable goals, and set sufficient time for user testing and feedback.
Eventually our researched showed that clients approached looking for new products either by product or solution. For example, "I need Shipping APIs" (a product), or "I need a way to ship globally" (a solution).